Introduction to Intune service

Telia Certificate Service offers Microsoft® Intune SCEP Proxy service for customers, who already have Telia Hosted CA service. This service enables automated deployment of private certificates to end-user devices of the customer organization using Microsoft Mobile Device Management service.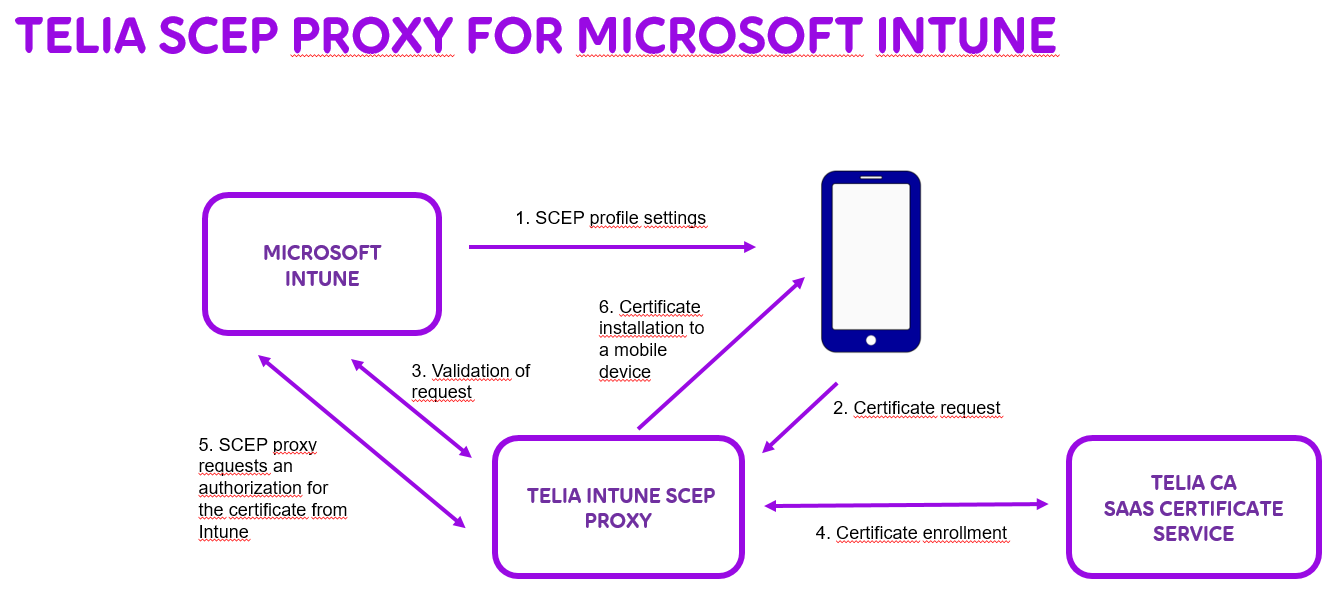 Features of the service

Telia CA Intune SCEP Proxy is an add-on service to Telia Hosted CA service. For deployment of Intune service, a customer must have an existing Hosted CA service
The service includes a dedicated URL address. End-user devices will contact this address
Intune is a cloud service provided by Microsoft. It is used to control employee end-user devices with MDM. Customer organization will administrate Intune service and define SCEP profiles to the Intune. Profiles are targeted for specific customer devices
Telia CA Intune SCEP Proxy is a Telia service component, which will be set as an application to Microsoft® Azure® AD service of the customer organization. This will enable secure deployment of certificates enrolled at Telia Certificate Service to customer iOS, Android and Windows devices as defined by SCEP profiles
Microsoft Intune service will handle distribution of the certificates. Telia CA Intune SCEP Proxy is a proxy, which is contacted when customer devices acquire or renew their device certificate. No end-user interaction is required during these operations
Intune-delivered certificates are avaiable for common use cases in end-user devices like authentication or signing
Certificate management is done via Telia Certificate Manager portal. Certificate revocation is possible as self-service using the portal
A test Telia CA Intune SCEP service can be included in service agreement
Telia will install Telia CA Intune-SCEP Proxy component and provide 24/7/365 maintenance and support for it
Pricing, ordering and service deployment
The service has a separate monthly fee. In addition to that, normal CA, OCSP and end-user certificate fees are invoiced according to Hosted CA agreement
Inquiries and pricing info:
The service deployment happens as a co-operation project. Telia deploys certificate service and SCEP component. Customer has responsibility of setting up Intune. Necessary network connections, user id's and configurations are setu up during the project. At the end of the project, service functionality is tested and service is moved into production mode
SCEP stands for Simple Certificate Enrollment Protocol. It is a standard used for client and device certificate enrollment and deployment to end-user devices.